2017 Commercial Vehicle Update
2016 has been a very busy year with Eaton's Vehicle Group. The team worked tirelessly to deliver new products and solutions that improve performance, fuel economy and reliability for the automotive and medium- and heavy-duty commercial vehicle markets.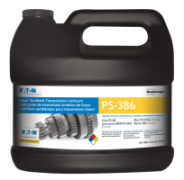 The new
Eaton lubricants
portfolio, including the
PS-386
for heavy-duty manual and automated transmissions and
PS-278
for the Procision dual-clutch automatic transmission, was introduced. Updated packaging and Eaton Approved Lubricant labels make it easier for customers to choose the correct product for their transmission.
Customers using Volvo I-Shift automated transmissions can now purchase the
Eaton 430mm Push Wear-Thru
clutch. Available since March, this clutch is competitively priced and includes the same quality engineering and manufacturing features of the company's aftermarket line of EverTough™ clutches.
Production of the all-new
Procision® automatic transmission
started in February. Designed specifically for the class 6 and 7 commercial vehicle and bus markets, Procision represents the first adaptation of dual-clutch technology for these segments. By combining the efficiency of a manual transmission with the smooth shifting of an automatic transmission, Procision offers substantial improvements in safety and low speed maneuverability when compared to the current market-leading torque converter automatic transmission technology. Procision also provides a lower total cost of ownership with fuel economy improvements of up to 10 percent and reduced maintenance costs.
The transmission lubricant service interval for
Procision
was extended to 10 years/150,000 miles. "It's possible that some fleets, such as school buses, may never have to service a Procision transmission depending on their duty cycles," said Jeff Walker, director, Commercial Powertrain, Eaton's Vehicle Group. "With a $250 average cost of a transmission fluid and filter change, this new extended interval change can save a fleet $583 versus competitive offerings."
Vocational fleets currently operating manual transmissions, who are considering an automated transmission in their next truck, will appreciate the performance and peace of mind that the cooler-less
Fuller Advantage® transmission
offers. Now available in
vocational truck applications
, the Fuller Advantage series automated overdrive features 110,000 pound GCW capability and 6- and 8-bolt PTO openings. Vehicle control is vital in a vocational application, so all Eaton AMTs can now be configured with optional Urge to Move, Creep Mode and Blended Pedal functionality for enhanced low-speed maneuverability in situations such as backing into a loading dock or maneuvering in a construction job site.
The popular Cummins and Eaton
SmartAdvantage® powertrain
line-up received a new 1850 ft.-lb. of torque rating to provide customers with better performance on grades and improved acceleration. The two companies also announced an extension of their collaborative integration efforts to now include joint sales and service support in the field.
Three
new higher torque-rated clutches
were added to the portfolio of remanufactured clutches to better support the owners and operators of later model trucks. Available in torque ranges up to 2,050 ft.-lb., the additions include two remanufactured Easy Pedal® and one Solo® design that may be specified for all makes and models of heavy-duty trucks in North America.
A promotion running through March 15, 2017, at OEM truck dealers makes
new transmission units
available in the aftermarket for the first time. "These are new transmissions, not remanufactured units. These new units are built on the same production lines as transmissions for new trucks," said Bill Fouch, aftermarket marketing manager, Eaton. This promotion rounds out Eaton's line of aftermarket transmission units –
Reman
,
FLEX Reman
,
Authorized Rebuilt
and now
New Service
– giving customers a variety of solutions to choose from.
A variety of innovative products for the Commercial Vehicle market were showcased at the 66th IAA Commercial Vehicles Show in Hannover, Germany, in September.
< href"http://www.eaton.com/Eaton/ProductsServices/Vehicle/intelliconnect/index.htm?wtredirect=www.eaton.com/intelliconnect">IntelliConnect™, a suite of connected solutions designed to improve a fleet's uptime and efficiency and reduce the total cost of ownership. The initial module in the suite, IntelliConnect Remote Diagnostics, provides near real-time monitoring of vehicle fault codes helping fleets increase vehicle uptime by reducing unplanned downtime through faster repair diagnosis.
The Advanced Driver Assist System (ADAS) Dock Assist feature uses software upgrades to communicate with the control modules in Eaton's automated manual and dual-clutch automatic transmissions. By controlling the vehicle speed and electronic brake (if a vehicle is equipped with one), the Dock Assist ADAS feature can eliminate damage to a trailer, loading dock and vehicle driveline. "Dock Assist is a practical solution to an industry issue," said Gerard Devito, chief technology officer, Eaton's Vehicle Group. "A large fleet customer estimates they spend $10,000 a month for repairs from damages that occur during the coupling of a tractor or trailer in the loading dock environment. Our Dock Assist technology would eliminate that."
A complete portfolio of Advanced and Standard Valvetrain solutions – including Variable Valve Lift for both diesel and gasoline engines, Cylinder Deactivation, Hydraulic Lash Adjusting and Decompression Engine Brake. The technologies provide customers with a range of benefits – from fuel economy and improved engine performance, to improved braking and safety.
Polymer Air Conditioning Conveyance System (PACCS) lines are a cost effective and lightweight alternative to the aluminum tubing and rubber components used in traditional air conditioning lines. The PACCS lines are up to 50 percent lighter than traditional air conditioning lines, provide improved gas tightness, and are 90 percent recyclable at end of life. Composed of a blended thermoplastic material, the PACCS lines are bendable and flexible, can withstand high system pressure, and offer chemical resistance to all oils and refrigerants that are most commonly used in mobile air conditioning systems.
Two waste heat recovery concepts designed to improve fuel economy and reduce emissions under stricter government regulations.
Eaton partnered with UQM Technologies, Inc. and Pi Innovo, to design and produce the "UQM PowerPhaseDT" system, which includes a
2-speed transmission
for heavy- and medium-duty electric commercial vehicle applications to meet growing demand in the European and other markets. The system offers better performance on grades and improves acceleration and efficiency. The smaller drive train also allows for improved packaging efficiency, greater payload capacity, and lower cost when compared with direct drive or single speed drivetrain strategies.
2017 is shaping up to be another exciting year, as we bring even more innovative products and solutions to market. Be sure to check
www.eaton.com/vehicle
for the latest news.