2016 Automotive Update
2016 has been a very busy year with Eaton's Vehicle Group. The team worked tirelessly to deliver new products and solutions that improve performance, fuel economy and reliability for the automotive and medium- and heavy-duty commercial vehicle markets.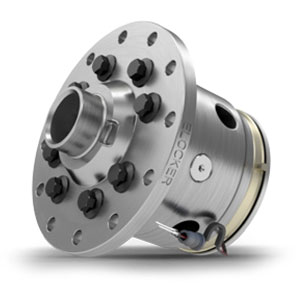 Production began on the
ELocker4™ direct acting differential
for the Dana 60/70 axle. Available for front and rear axle installations, the robust, four-pinion gear design can handle the most extreme off-roading conditions. Using a dash-mounted button, drivers can switch from a fully-open differential to 100 percent locked axle at the touch of a button, giving them maximum driveline flexibility.
A variety of innovative products for automotive applications were showcased at the 66th IAA Commercial Vehicles Show in Hannover, Germany, in September.
A complete portfolio of Advanced and Standard Valvetrain solutions – including Variable Valve Lift for both diesel and gasoline engines, Cylinder Deactivation, Hydraulic Lash Adjusting and Decompression Engine Brake. The technologies provide customers with a range of benefits – from fuel economy and improved engine performance, to improved braking and safety.
Polymer Air Conditioning Conveyance System (PACCS) lines are a cost-effective and lightweight alternative to the aluminum tubing and rubber components used in traditional air conditioning lines. The PACCS lines are up to 50 percent lighter than traditional air conditioning lines, provide improved gas tightness, and are 90 percent recyclable at end of life. Composed of a blended thermoplastic material, the PACCS lines are bendable and flexible, can withstand high system pressure, and offer chemical resistance to all oils and refrigerants that are most commonly used in mobile air conditioning systems.
The TVS® supercharger platform has expanded to include the
TVS R2650
, the largest supercharger rotating group ever produced by Eaton with several new features designed to maximize efficiency and performance at the upper RPM range of engines. The new, higher twist, 4-lobe rotor design is 15 percent larger than its predecessor – the TVS R2300 – and flows 25 percent more air. The R2650 features 170-degree twist lobes which shorten the rotor lead to help maintain peak efficiency at higher speeds and pressure ratios, an optimized length-over-diameter ratio improves sealing, larger bearings and thicker timing gears enhances durability, and pressure relief ports in the bearing plate reduces input power.
2017 is shaping up to be another exciting year, as we bring even more innovative products and solutions to market. Be sure to check
www.eaton.com/vehicle
for the latest news.